【Guide】Tournament Guide
2017-07-19 16:06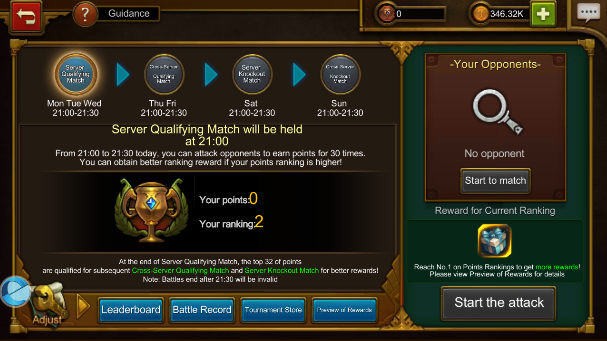 Tournament Guide
1. Tournament function unlocks on the 1st Monday after the server's opening or update.
2. Each match starts at 21:00 and ends at 21:30 every day.
3. The matches are Server Qualifying Match from Monday to Wednesday, Cross-Server Qualifying Match from Thursday to Friday, Server Knockout Match on Saturday, and Cross-Server Knockout Match on Sunday.
4. Only top 32 players of Server Qualifying Match are qualified for Cross-Server Qualifying Match and Server Knockout Match; and only top 32 players of the Cross-Server Qualifying Match are qualified for Cross-Server Knockout Match.
5. Each Knockout Match contains 4 rounds and single knock-out system is adapted. Top 3 players will be decided in Final Four of the last round.
6. Rewards will be issued by mail based on players' rankings after each match.
7. During each Knockout Match,you can choose to support one contestant once per round.
8. Different rewards will be sent to you by mail when the contestant you support wins or loses. Spirit Resonance can boost the Combo Skill.